AUSTRALIAN WOMEN'S FICTION –TODAY AND YESTERDAY
Kate Loveday has created great romantic suspense stories. I really liked her characters. I also enjoyed how she incorporated the lore of the Aboriginal people of Australia in her stories. Kate has created a wonderful setting in Inheritance. Her characters are wonderfully developed and come alive off the page.
This is a great book! ……………...By Romance Junkies Reviewer: Lisa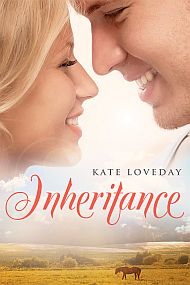 January 2017, "At long last I found a hard copy of "Inheritance". Absolutely loved it - seems to be in a very similar style to that of Barbara Hannay, Rachael Johns and Tricia Stringer. Kept on reading last night until I finished it. Magic." Marlene, Adelaide,
**
INHERITANCE is a great romantic suspense story, but also a chronicle of Cassie's life as she grows into a woman. I really liked her characters. I also enjoyed how she incorporated the lore of the Aboriginal people of Australia in the story. Ms. Loveday has created a wonderful setting in Yallandoo. Her characters are wonderfully developed and come alive off the page. This is a great book! ……………...By Romance Junkies Reviewer: Lisa
**
Overall I found Inheritance compelling. Kate Loveday has a wonderful talent for getting into each and every character's head and telling the story from their point of view. The different twists and turns in the story retain the reader's interest.
A very believable story; one that draws the reader in and leaves them feeling as though they have not only met these people but have really managed to get to know them all, very well...............RRAH reviewed by Kay James
**
With her first novel 'Inheritance' ,Kate Loveday has created a fantastic read. I for one, applaud her wonderful talent. Great work! Can't wait for her next book!
I give this book a five star rating…………………. Sarah Cook , Author of Australian Fiction
Praise for Black Mountain
Dawn's review - 5 stars
Elly is continuing the research of her father when the new love she thought was there goes missing. A series of mysterious events bring Mitchell, a former police officer , into her life to assist in solving the mystery on the insistence of her mother.
First time reading this author and thoroughly enjoyed her description of the country, characters and story line. Will be checking out her other books.
E-book from Net galley and publishers with thanks.
******
Lost in sweet words
** Review ** Black Mountain – Kate Loveday
June 21, 20164.5 Stars
This is a fantastic short read that is fast pace and exciting. I really enjoyed this story as it was something different and really captured my attention.
Elly is in a race against time to find the flower that holds the secret to her father's fountain of youth oil, she's determined to finish what her father started and she's not going to let searching a rainforest stop her. Only problem is she's not the only one looking for the undiscovered flower but it's difficult to get ahead of someone when you've no clue who they are. Elly's mother calls in the help of Mitchell to find out who stole her husband's research and so Elly isn't out searching the rainforest by herself. Spending so much time with Mitchell, Elly might find more than just the flower.
*******
Ladyp's Review
Black Mountain by Kate Loveday
4 Stars Jun 17 2016
I really enjoyed this book as it had a hint of romance and bit of intrigue.
Plus I have always found Australia fascinating from afar and for that reason found this read, fun and exciting.
Eloise or Elly Cooper and her girlfriend Gai are going away for a weekend treat with a couple of guy friends. Only Elly's guy friend, Jackson never shows up for their flight. He does call her the next day to explain away his absence. Meanwhile Elly hangs out with Gai and her guy friend Tim and they enjoy the weekend away without Jackson. When Elly and her friends get back home, she goes to where Jackson says he works and asks about him only they have never heard of him, mmmmm. Who is this Jackson character, is he all Elly thinks he is? When Elly gets back to her apartment she has this gut feeling something is not quite right in her apartment. She senses that some of her things have gone awry.
She looks in every room in her apartment until her friend Gai says, "do you have something in her that somebody might want?" That is when Elly goes to where her dad's journal was supposed to be and finds that it is missing. It was her dad's work and research for their family's business.
Her dad had found a plant that might help them in the skin care industry.
The next morning she calls the police about her apartment seemingly has been broken into, but it was whom they were interested in more, that was disturbing. Jackson seems more and more sinister as the story goes on.
Elly had called her mother, Beth and she was there when the police came but did not find them to be very resourceful. They had the locks changed on the apartment and Beth decides they need someone to help them search for the journal and whoever took it. It is an old friend that grew up with Elly and he is an ex-cop now with an injury and does private investigating on his own. Mitchell Beaumont is going to help Elly search for the missing journal and the rare plant that her dad found that could be worth millions. He promises Beth, that he will not allow any harm to come to Elly.
Mitchell and Elly go out for days looking in the "Daintree rainforest and with no success. Being together day in and day out does things to your heart; so are Elly and Mitchell growing fond of one another? Might there be a chance for love to grow between the two? Mitchell does think women are fickle creatures and Elly after all thinks Mitchell is "self-opinionated pig."
Is their search for the plant her dad found successful?
What about Jackson, did he indeed steal the journal? Is he in it for himself or working for someone else? Are they after the rare plant too? If so, how far will they go to get it?
Will Jackson jeopardize Elly's life?
There are many more unexpected things that happen in the story that you will miss out on if you don't take a chance on this enthralling read.
"Black Mountain" is the place where adventure, romance, and mystery abound; what more could one ask for?
I would like to read more books by this author.
I was given this book, by Netgalley.com for review purposes.
Reflections
A collection of light hearted short stories which could be set any where in the world. We can find humour and interest in any situation and possibly reflect on the absolute joy of living.
These little anecdotes have been the result of some of the wonderful quirks of our human nature.
Take a moment to read and look around you and find other classic moments of our fantastic world
This book is available as an eBook.
A Woman of Spirit
Book Number 1 Redwoods series
It is often a spur-of-the-moment decision that can become a turning point in life. So it is for Kitty Morland, a young woman in London in 1878. When she yields to temptation one fateful day, the consequences of her action force her to flee to Australia, hoping to join her brother.
On the other side of the world, she meets two men–William, an expatriate English aristocrat, and Rufe, a charismatic Colonial entrepreneur involved with trading in diamonds and in the goldfields.
Beautiful and spirited, Kitty needs all her courage and determination to survive the ordeal of marriage to William, a bullying husband. When he is drowned it leaves her alone to give birth to a daughter and to run a timber-cutting business in a male-dominated era that considers a woman only as an obedient homemaker and bed-warmer.
When she is offered a chance at love and happiness with Rufe, will she make the right decision?
**
A Review of A Woman Of Spirit- previously titled An Independent Woman

An Independent Woman is a wonderful and unique historical romance. If you like Victorian era historical romances, you will love it, the twist is that over half of it takes place in Australia.
Cheated of her birthright and trapped in a time and place where women have few choices, and women of limited means almost none, Kitty Morland finds herself time and again pushed into actions that do not fit her heart or her soul and from which there is no turning back. From Victorian England to the new world of Australia through the fight to defend her new home and her future, Kitty stands as a woman ready to face all odds with her head held high knowing that the only real choice is to protect to people she loves.
Forced to flee Victorian England, Kitty and her mother board a ship to Australia to join her brother Robert. On the pleasant journey to the new land, Kitty meets two men who will affect her destiny, Rufe Cavanaugh, an attractive Australian who is rumoured to be almost engaged to the lovely daughter of his travelling companions, and William Barron, the stodgy son of an English aristocrat who has eyes only for Kitty.
Pressured by circumstance into marriage with a man she does not like, much less love, she moves to beautiful new home, Redwood, in a wonderful but isolated land. When she challenges sense his of superiority, he reminds her that by law she is no more than a possession, and unknown to her he is gambling his money away. Without the dominance and disapprove of his mother to hold him in check, her husband's insecurities shift from arrogant reserve to a bullying cruelty, possibly even to insanity.
From the journey to the new world through the struggle to defend her new home and her future, Kitty stands as a woman ready to face all odds with her head held high to protect those she loves.
I do not usually read historical romances, but after reading Kate Loveday's contemporary Australian romance, Inheritance, I wanted to know if her other works was as good. I think there is there is a richness to her writing. She may be Australia's answer to Barbara Taylor Bradford.
I have only one complaint, the second book in the Redwood Series is not out and will not be for a while.
Note: I seldom give 5 star ratings because I am comparing these books to the best I ever read. This is a 5 star recommendation. 
Jeannie Jackson - Reviewer
****
Review of A Woman of Spirit - previously titled An Independent Woman

Well-written and well-told, with colourful characters and finely drawn scenes, this is a book that will sweep you back to the Victorian era of 1878 and immerse you in the changing fortunes of the headstrong young Kitty Morland.
When you first meet Kitty, the loss of her family's fortune and the death of her father have reduced her to servitude in a grand house in Victorian England. Never one to accept defeat, she secretly takes an impetuous step that promises to give her financial independence, but only if she is not discovered by her employer and the authorities. With her mother, she escapes by ship to colonial Australia to make a new start. Unfortunately, her actions have consequences that follow her to the new country and she agrees to a disastrous marriage to a wealthy aristocrat in order to guarantee protection for her mother and herself. Her loveless marriage takes her to Redwood, a remote property on the banks of the Myall River, where she falls in love with the land and also with the attractive Rufe Cavanagh.
This is a story of a woman pitted against the ruthless powers of the Victorian age - a legal system that denied a woman's right to her own property if she married and a social structure that expected a woman to submit to even the most bullying of husbands. But Kitty is not the sort of woman to easily admit defeat. With great courage and intelligence, she carves out a new life for herself, though not without tragedy. In the end, she achieves a bitter sweet triumph that will both surprise and satisfy the reader. 
Review by Jacqueline Winn Australian Author
*****
Review of 'A Woman of Spirit - ' previously titled 'An Independent Woman' written by Kate Loveday

I have to say that I was captivated from the start. After the first couple of pages I was totally sucked in and could not put the book down. Having said that it is only right and fair to say that 'Historical' is not a genre that I would choose to read, in fact, I avoid it at all costs!
Yet this book is not what I expected – not at all. It's a story that is set in the earlier part of Australia's history and although the formality is there, with people addressing each other as 'Miss Morland' or 'Mr Cavanagh' the story is totally absorbing.
Kate Loveday writes beautifully, in a free-flowing, easy to read style. Her writing is pleasantly descriptive and the reader can see the setting of each scene as easily as if they were in the book themselves.
The characters are real and it is easy for the reader to develop a fondness for some and at the same time, a dislike for others. The end of this book leaves me begging for more – what better way to leave your audience? While a 'happy-ever-after' ending would have been the normal way to go, I'm pleased that Kate Loveday has chosen another.
Knowing Kitty Barron as I do, I completely understand the reasoning behind her decision and while I feel sad for her, I agree with her choices. A woman like Kitty will hopefully thrive, despite whatever she faces. I cannot wait for the next book in the trilogy!
If you missed 'Inheritance' – the debut novel by Kate Loveday then go find it! It was a wonderful read, also beautifully done and I am pleased to see that Kate has continued to develop her fantastic style. With writing like this Kate Loveday's future looks great!
Once again, I have pleasure in awarding Kate Loveday the maximum '5 Stars' for her latest book, 'An Independent Woman.'
Sarah Cook, Reviewer & Freelance Editor Author of Australian Fiction
www.sarahcookauthor.com She may well be Australia's answer Barbara Taylor Bradford."
Book 2 in the Redwood Series
In Search Of Love
Book Number 2 Redwood Series
They shared one night of love. When Kitty Barron and Rufe Cavanagh meet sixteen years later, Kitty wonders if they might have a second chance at happiness. Rufe is determined they will.
Kitty's teenage daughter, Joy, and Rufe's daughter, Lily, are school friends. While Joy embraces the idea of uniting their families, Lily burns with jealousy at the thought of sharing her father's affection, and schemes to keep them apart.
When Joy and Lily go to London for a Season, they find that beneath the gaiety and excitement not everything or everybody is as it seems. Their romances bring problems that have far-reaching effects for Kitty and Rufe, and their happiness. Can Kitty and Rufe withstand Lily's manipulative efforts to keep them apart? Is their love strong enough?